Gallery › Warsaw Ghetto: Fragments of Memory
This series of eight monochromatic gray digital prints was inspired the Jewish fighters and victims of the Warsaw Ghetto.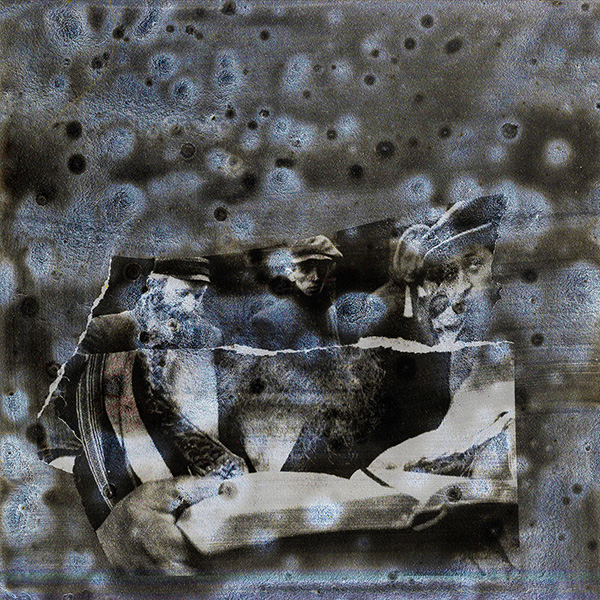 Technical Notes:
The boxes are made of birch plywood glued together with Titebond wood glue.
They are painted with a black semi-gloss latex paint.
Some of the lids are recycled bamboo flooring with black palm wood handles; other lids are painted panels and have fabric tabs that permit easy access. Paste wax is applied to the lids to prevent adhesion between surfaces.
The mixed-media paintings are created on archival Ampersand brand museum panels.
The finished panels receive at least two coats of acrylic varnish.
The museum panels are 4x4 inches, 5x5 inches, 6x6 inches, or 5x7 inches (vertical).
The boxes have four soft plastic "feet" to prevent the bottom panel from scratching tabletops or pedestals.
All the boxes seen here were fabricated by Mark Noll expressly for Bob Barancik.

Technical Notes
The initial black & white collages were created from documentary photographs of the actual Warsaw Ghetto in 1941. This artwork was scanned and electronically mixed with digital scans of my gray acrylic paintings in Photoshop software.
Prints are available on 8.5 x 11 inch Epson Hot Press Bright White archival ink jet paper and larger.
Personal Notes
My last name, Barancik, means "little ram" in Polish. According to both family lore and Ancestry.com, I have deep Jewish-Polish roots. This print series is part of a much larger body of creative work inspired by the fighters and victims of the Warsaw Ghetto. This includes hand-bound artist books, mixed media paintings, and videos—most of which are in the permanent collection of the Florida Holocaust Museum.
Also, I wish to add my personal thanks to Michael Conway for his expert help with both digital image development and printing.
Contact Bob Barancik
email: bobcreates@earthlink.net
cell+text: 215.964.3937
---